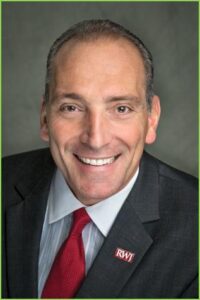 Michael Antoniades has been appointed Interim President of UChicago Medicine Ingalls Memorial Hospital as of March 7.
Mike has served in senior and executive roles at community hospitals and academic medical centers for more than 30 years, most recently as Executive Vice President and Chief Operating Officer at Maimonides Medical Center in Brooklyn, New York. Mike has also held leadership roles at Robert Wood Johnson University Hospital in New Jersey, including as President and CEO.
Mike has made a rapid transition and strong impression in his first few weeks, meeting with hospital leadership, physicians and front line staff. Mike is planning to attend the upcoming Promise of Hope fashion show in May as well as the next Foundation Board of Directors meeting.
Mike has expressed a strong interest in the work of our Foundation and has worked in partnership with Foundation leaders, board members and donors to advance philanthropy in his previous roles.
Please join us in welcoming Mike to UCM Ingalls!